Customers Who Viewed This Product Also Viewed
Mould King 21026 UCS Millennium Falcon

Material: ABS
Size: 74 x 58 x 29.5cm / 29.13 x 22.83 x 11.61"
Pieces: 12688 pcs

Includes:
- Main building block
- Instructions

Feature(s):
- This Millennium Falcon is also equipped with the prototype electromagnetic laser cannon, which realistically simulates the combat state.
- The four-barrel laser gun can be moved flexibly, and the range of hitting the target is greatly expanded.
- The hatch of the spacecraft can be uncovered independently or as a whole.
- Innovative and independent design to make this spacecraft functional area independent, taking you to experience the real starship scene.
- Full-colour step by step building instructions.
- Near 90% Lego-like quality
- Full Lego compatibility
- Enhanced durability with paraffin wax

Estimated Releasing Date: Late December, 2023

06/09/2023
Mould King 21026 UCS Millennium Falcon
Pictures updated.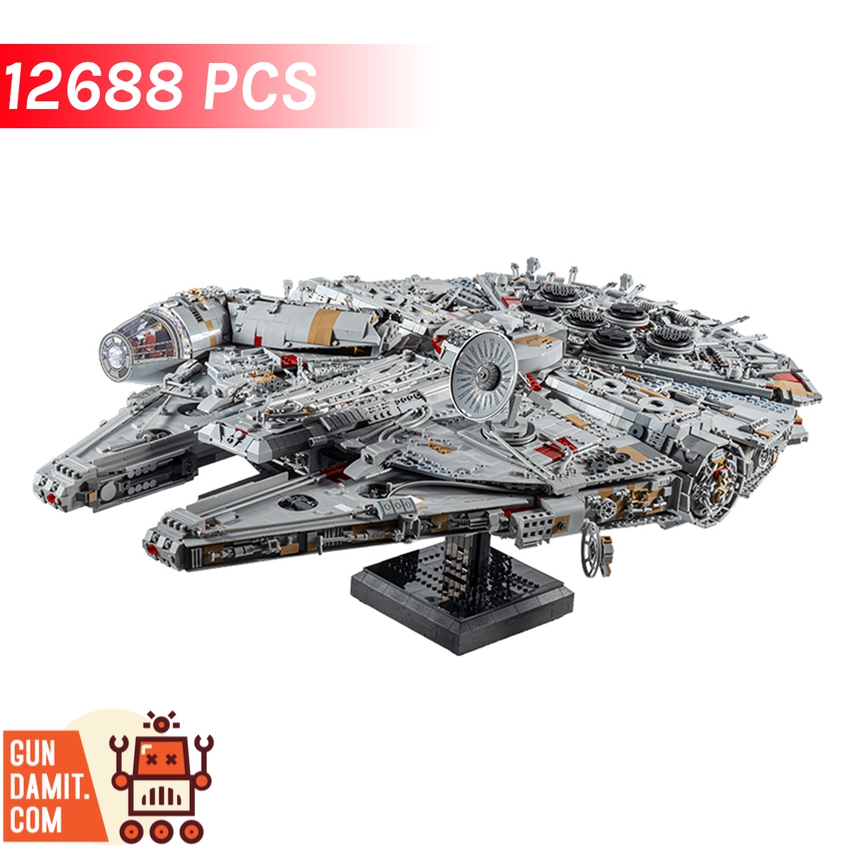 Q/A(This will help you understand how we get things done)



Does your store have w/o BOX option?


All the Building Blocks we sell in-store come with boxes.



Why do I see so many item marked as "coming soon"


For Building Block's "coming soon" items, once you place an order, we will go back and restock. Once the goods arrive at our warehouse, we will change the status to "in stock". If you see products that have always been in the "coming soon" status, it means they haven't been purchased by anyone yet. (If the product you order is marked as 'coming soon', it may take 3 to 5 days longer to ship than regular 'in stock' products that are not marked as 'coming soon'.)
Why is your shipping for bigger items so slow?


Buying big Building Blocks often means facing high shipping costs, sometimes more than the product. So, we prefer sea freight for these items. The drawback is the 40-70 day delivery time with tracking stopping until the package arrives in your country, typically updating about 30 days before arrival. On the bright side, with the reduction in shipping costs, the product prices will also decrease.



Is it possible for me to upgrade to a faster logistics mode instead of sea freight even if it means paying extra?


Yes, it is possible. You can simply contact our staff or send an email to [email protected] for assistance on how to upgrade.



I'm interested in some bricks that your store doesn't have.


Our Building Block category at the GunDamit Store is new. If a product you want isn't available, use the link to submit a request. If we haven't stocked it within 1-2 weeks, we may be having sourcing difficulties. However, we can usually find it.
Link: https://forms.gle/xNxZtPjUzuAfu2h77
How will you address product quality or missing part issues?


We have a complete after-sales system to assist our buyers. If you encounter any problems, you can fill out

this form

. Moreover, the after-sales services are completely free of charge. If you encounter unsolvable problems, we may choose to resend the item or issue a refund for you.



How will I deal with customs duty?


We usually leverage logistics for efficient customs clearance, typically incurring no extra duties. However, if there's a need for customs payment, it should be dealt with by the customer.

Our Discord:
https://discord.gg/showz




Contact Info:


If you encounter issues like not being able to correctly choose your delivery address, or have any questions related to Building Block, feel free to email: [email protected]